28 Apr, 2010
social washing
Posted by: ludiko boy In: ludiko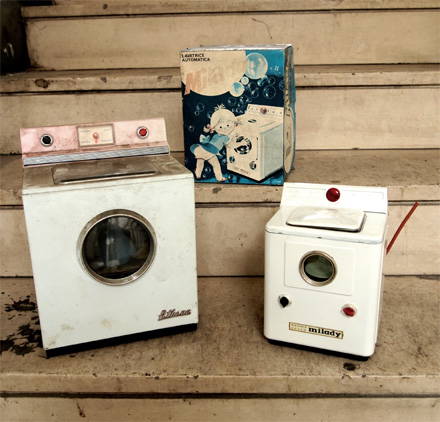 Tra tutti gli elettrodomestici moderni, la lavatrice è quello che ha maggiormente cambiato il modo di vita di tutti i giorni, dal momento che prima della sua diffusione il lavaggio degli indumenti assorbiva una grande quantità di tempo e di energia, soprattutto da parte delle donne. Per questo la lavatrice viene considerata un elemento importante nella storia dell'emancipazione femminile.
(foto: lavatrici giocattolo della collezione LOT C – Ludiko Old toys collection)
Of all the modern appliances, washing machines is what has most changed the way of life every day since before its invention washing clothes absorbed a large amount of time and energy, especially by women. For this the washing machine is considered an important element in the history of female emancipation.
(Photo: washing machines taken from LOT C – Ludiko Old toys collection)