15 Lug, 2009
NO BebiMia!
Posted by: paka In: ludiko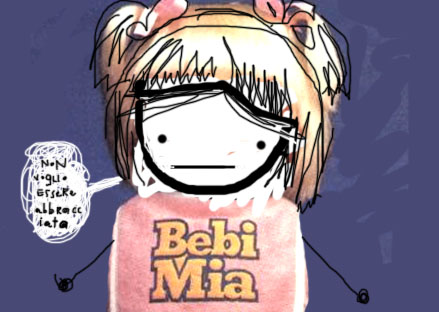 Quando ero piccola  il mio sogno era avere BebiMia. Mi sentivo una buona mamma per lei: la coccolavo, la pettinavo, la abbracciavo e lei mi voleva bene. Oggi invece sono io BebyMia, ma non voglio essere pettinata, nè abbracciata, nè coccolata!! e NO, non ti voglio bene!
When I was a little girl I had the Doll I was dreaming: BebiMia.¬† I felt a very good Mum for her: I took care of her, I combed her's hair, I¬† was often hugging¬† her and she loved me so much!¬† Today I am a BebiMia by my own, but I don't want to be combed at all¬† and please no hugs, no cuddles … and mainly I do not love you!